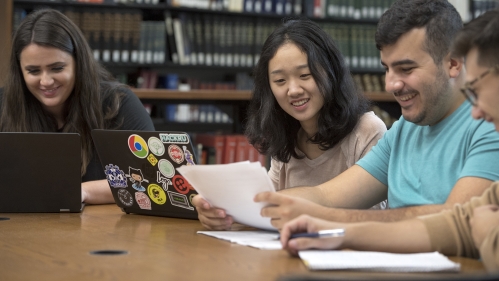 Study Groups
Connect with classmates and work together to achieve your learning goals.
Study Smarter
The Learning Centers offer a more intelligent way to study for your courses, with free in-person and online study groups available through our Learning Assistant Program. Study group leaders review the course material and integrate study strategies that link the content with cognitive skill development to support your course success and overall learning.
Get Results
Research shows that study group participants:
Acquire effective learning strategies
Are more actively involved in their courses
Earn a higher final course grade than if they studied alone
Earn higher grades in the course than classmates who do not participate in the group
Have a better understanding of the course material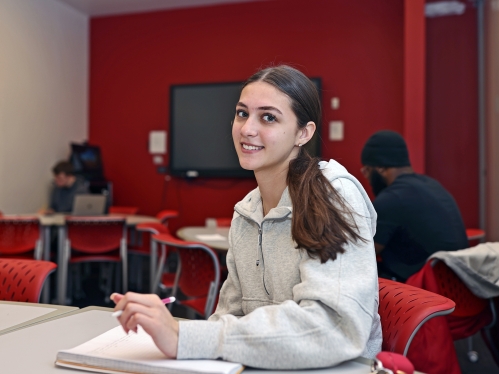 About Study Group Leaders
Our study group leaders are trained and supervised Rutgers students selected by your course professor. They are not course instructors and are present only to facilitate a study session. 
Study groups meet once a week for 80 minutes. Times are subject to change. While study groups are non-credit, meaning they do not appear on transcripts, you should plan to attend every week. Up to two absences are allowed before you risk removal, in fairness to waitlisted students.
20 Courses with Study Groups for Fall 2023

01:146:356 - Systems Physiology
01:160:165 - Extended General Chemistry
01:160:307 - Organic Chemistry I
01:160:308 - Organic Chemistry II
01:198:111 - Introduction to Computer Science
01:198:112 - Data Structures
01:447:384 – Genetic Analysis I
01:640:111 - Precalculus Part I
01:640:112 - Precalculus Part II
01:640:115 - Precalculus College Math
01:640:135 - Calculus I Life and Social Sciences
01:640:151 - Calculus I Math and Physical Sciences
01:640:152 - Calculus II Math and Physical Sciences
01:750:161 – Elements of Physics
01:830:123 - Soul Beliefs
01:830:340 - Abnormal Psychology
11:115:403 - General Biochemistry
11:115:404 – General Biochemistry
11:680:390 - General Microbiology
14:155:309 – Chemical Engineering Thermodynamics II
Access Services Through Penji
Interested in starting a study group of your own? Email us or use our student request form for support and training in establishing your group. Learn more about how to effectively create and manage a study group with our suggested activities and Study Group Guide below.
A study group can be beneficial in many ways, including:

Study groups help you stay focused and motivated.
You may find it easier to ask questions and actively engage in your learning in a more controlled setting than in a large group.
You may be more motivated to complete your work on time because you know your group members are relying on you.
You will learn multiple points of view and methods for problem solving and critical thinking.
You can learn valuable new study habits from the other group members.

To be successful, a study group should demonstrate these characteristics:

Each group member contributes to discussions and is held accountable for bringing something to the group or for creating something during the session.
Group members actively listen to each other without interrupting.
Group members are prompt and come prepared to work. Ideally, the group should create some type of product, such as an outline, a study sheet, or a diagram that everyone can take home and study.
The group creates an agenda collectively and then stays on task with respect to its agenda.
Group members provide constructive feedback, not criticism. (Learning Centers training staff can help you learn to do this.)
At the end of each study session, an agenda including specific group member responsibilities is prepared for the next session.
Above all, the positive attitude that "we can do this together" is maintained. Group members do not spend the time complaining about the class or speaking in a self-defeating manner.

A study group can be a very positive learning experience, however, here are some potential issues to avoid:

Do not let the study group get distracted from its agenda and goals.
Do not let the study group become a social group. You can socialize at other times.
Do not allow group members to attend unprepared: All members should be required to do their fair share.
Do not allow one or two group members to dominate the group. All members have an equal opportunity to participate.
The study group should foster positive, constructive conversations about finding creative solutions to problems, not commiserating about them.

*Some items adapted from How-To-Study.com.