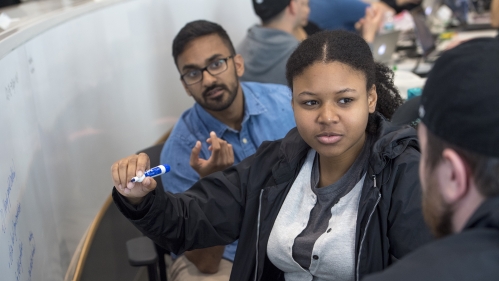 Learning Assistant Program
Get involved with this innovative program that benefits students, teachers, and their courses.
About the Learning Assistant Program
The Learning Assistant (LA) Program engages undergraduates in classroom teaching and learning while helping them develop their leadership, communication, and interpersonal skills. At Rutgers–New Brunswick, the LA program is a partnership between the Learning Centers and several academic departments.
Learning assistants are important members of the instructional team and promote active learning, incorporate innovative educational practices into the classroom, and improve student retention. The benefits to faculty, students, and the learning assistant themselves are clear.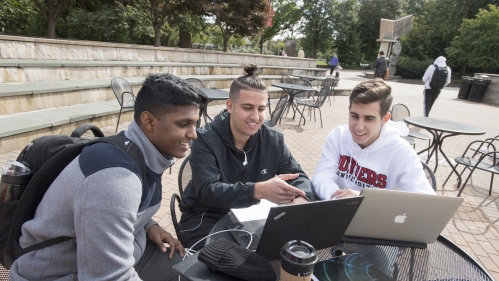 An International Model
Our LA program proudly follows an internationally recognized model developed at the University of Colorado and is a member of the Learning Assistant Alliance.
Frequently Asked Questions
Learning assistants provide help and assist in the classroom in various ways, including:

Facilitating discussions and workshops during lectures
Team-teaching recitation or laboratory sections with a graduate teaching assistant
Independently leading supplemental study groups or recitations

They lead and facilitate discussion with small groups of students in lectures, recitations, labs, or study group sessions and are assigned to about 160 minutes of contact time with students each week during the semester (exact time may vary based on assignment).

Candidates should be in good academic standing and have successfully completed the course for which they will serve as a learning assistant. The ability to work with small groups and good administrative skills are required.

Yes, LAs are student employees of Rutgers University and are paid on average $1,500 per semester.

Participation in the program helps LAs develop communication and group facilitation skills.
Learning assistants work closely with faculty and staff in their fields. 
Learning assistants have a unique opportunity to work with and help other students succeed in their courses.
Learning assistants can take advantage of various campus opportunities to become involved in the university learning community.

Learning assistants must co-enroll in a 3-credit, 300-level pedagogy course, "Pedagogy of Peer-Led Instruction," during their first semester as an LA, and subsequent participation in the LA program is contingent upon successful completion of this course.

In the pedagogy course, LAs learn to facilitate learning and engage students in scientific discourse, rather than act as experts who have knowledge that needs to be transmitted to the student. Course topics include learning theory, cooperative learning, questioning techniques, and activity design.

Learning assistants are required to participate in peer leader trainings and ongoing professional development workshops each semester during their participation in the LA program.

Training Info for Current LAs
Learning assistants receive feedback through observations and student surveys to help them improve their teaching methods.

Learn more about the "Pedagogy of Peer-Led Learning" and other resources for peer leaders.

Learning assistants must attend weekly staff meetings led by faculty teaching their assigned course.
Learning assistants may participate in assessment activities, helping to collect or provide data to improve or develop the program and other academic support services at Rutgers.

Applications for LA positions are accepted at the beginning of each semester.
Applications for learning assistant positions are now closed. Check back at the beginning of each semester to apply.
Applicants who advance to the interview stage will be notified via email. These applicants will be added to a Canvas site to facilitate group interview signups. 
Signups occur on a first-come, first-served basis and close 48 hours before each session starts. Interview sessions are limited to 16-20 applicants.
Applicants who are eligible for LA positions in the upcoming academic year will be informed of their application status via email starting in May and throughout the summer break. 
If you applied for a position and didn't receive an email about your status during that period, please contact us.
The LA program partners with courses across Rutgers–New Brunswick campuses, including courses within different schools at Rutgers. Check back soon for the list of Fall 2023 partner courses.
Courses 2023-2024

•     01:146:356 - Systems Physiology

•     01:160:165 - Extended General Chemistry

•     01:160:307 - Organic Chemistry I

•     01:160:308 - Organic Chemistry II

•     01:198:111 - Introduction to Computer Science

•     01:198:112 - Data Structures

•     01:447:384 – Genetic Analysis I

•     01:640:111 - Precalculus Part I

•     01:640:112 - Precalculus Part II

•     01:640:115 - Precalculus College Math

•     01:640:135 - Calculus I Life and Social Sciences

•     01:640:151 - Calculus I Math and Physical Sciences

•     01:640:152 - Calculus II Math and Physical Sciences

•     01:640:157 - Calculus for Math and Physical Sciences I Practicum

•     01:640:158 - Calculus for Math and Physical Sciences II Practicum

•     01:830:123 - Soul Beliefs

•     01:830:340 - Abnormal Psychology

•     11:115:403 - General Biochemistry

•     11:115:404 – General Biochemistry

•     11:680:390 - General Microbiology

•     14:155:309 – Chemical Engineering Thermodynamics II
013:162/163 Elementary Urdu
146:356 Systems Physiology
160:159/160 General Chemistry for Engineers
160:307/308 Organic Chemistry
198:111 Introduction to Computer Science
220:320 Intermediate Microeconomics Analysis
447:354 Implications of the New Genetics
447:390 General Microbiology
460:305 Evolution and Geological Time
640:103 Topics in Math for Liberal Arts
640:104 Introduction to Probability
640:107 Number & Operation for K-8 Teaching
640:115 Precalculus for Engineers
640:123 Preparation for Calculus
640:151 Calculus for Math and Sciences I
640:152 Calculus for Math and Sciences II
640:291/292 Honors Calculus III/IV
640:300 Introduction to Mathematical Reasoning
640:311 Introduction to Real Analysis I
730:201 Introduction to Logic
750:115/116 Extended Analytical Physics
750:123 Analytical Physics IA
750:124 Analytical Physics IB
750:193/194 Physics for the Sciences
750:205 General Physics Laboratory IA
750:206 General Physics Laboratory IB
750:227 Analytical Physics IIA
750:228 Analytical Physics IIB
750:229 Analytical Physics Laboratory IIA 
750:230 Analytical Physics Laboratory IIB
750:323 Advanced General Physics I
790:300 Introduction to Political Science Research Methods
830:340 Abnormal Psychology

090:125 Honors College Forum

125:306 Biomedical Kinetics and Thermodynamics 
155:201 Chemical Engineering Material and Energy Balances
155:208 Chemical Engineering Thermodynamics I
155:210 Biological Foundations of Chemical Engineering
155:303 Transport Phenomena in Chemical Engineering I
155:304 Transport Phenomena in Chemical Engineering II
155:307 Computational Methods in Chemical Engineering
155:309 Chemical Engineering Thermodynamics II
155:324 Design of Separation Processes
155:341 Chemical Engineering Kinetics
155:415/416 Process Engineering Lab
155:427/428 Chemical Engineering Design
180:387 Fluid Mechanics
440:115 DELLC Introduction to Engineering
440:127 Introduction to Computers for Engineers (MATLAB)
540:210 Engineering Probability
540:343 Engineering Economics

115:301 Introductory Biochemistry
115:403/404 General Biochemistry
550:133 Architectural Design
550:230 Environmental Design Analysis
680:390 General Microbiology
The Learning Assistant Experience
Rutgers' LA program follows an international model that ensures every experience includes the following:
Authentic Classroom Practice: Learning assistants should be engaged in student-centered learning and able to apply their pedagogical training to facilitating cooperative learning of small groups. In many ways, LAs are analogous to student teachers and require authentic teaching experiences.

Learning assistants should be viewed as pedagogical agents of the course and can be included in development of course materials including worksheets, classroom exercises, and homework or quiz questions. The LA model can be customized to meet the needs of any course, with LAs participating in a number of important ways. These include being embedded in the classroom to facilitate group activities during scheduled lecture, lab or recitation sections, and leading study groups outside of class time. LAs cannot grade, proctor, or hold one-on-one office hours. 

Pedagogical Training: All LAs are required to take our "Pedagogy of Peer-Led Instruction" course to learn about pedagogical techniques that can be directly applied to their classroom practices. The students gain an understanding of different learning theories and take time to reflect on how these theories play out in their own classroom experiences. 

Mentorship: Faculty mentorship is critical to successful implementation of the LA model, providing content knowledge and context to the LAs. This mentorship works in both directions, because faculty have extensive experience to help guide the LAs while the LAs offer student perspectives and pedagogical training. We are committed to positive mentorship and request that mentors:

Meet with LAs for at least one hour each week to prepare the LAs for the coming week

Give the LAs feedback on their performance in the classroom and/or any course materials the LAs create

Reflect on course materials and student engagement
Get Involved
If you are interested in the LA program, please reach out to discuss potential opportunities and strategies for partnering with us and utilizing learning assistants in your course to help facilitate active and collaborative learning.